CHRISTIAN RØNN & JØRGEN TELLER
special guest:
Signe Høirup Wille-Jørgensen (aka Jomi Massage)

lights PALLE VEDEL
elektronisk hyldestkoncert til Leonard Cohen
Nikolaj Kunsthal - Kulturnatten kl. 21-22 d. 11. oktober 2019
kl. 17.20-21 + kl. 22-23:20
AMBIENT v PROX

---------------------------------------------------------------
9/11 kl. 14-15:00
BRØNSHØJ VANDTÅRN
PROX m PO Jørgensen


---------------------------------------------------------------
LIFE OF X (2015) - lp

live electronics and
WURLITZER electric piano vs. HÖFNER electric guitar
soundcloud-link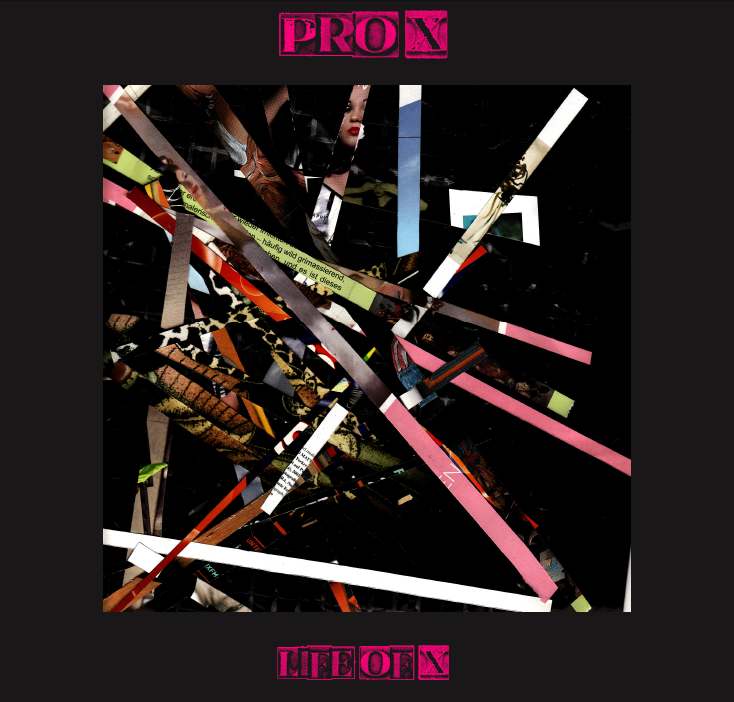 Vinyl udgivelsen "Life of X" (2015) ligger stilistisk i grænselandet mellem free-rock, live electronics og lyrisk impro-jazz. Pladen er tredie udspil fra den københavnske duo, der med en næsten kamæleon-agtig tilgang til både komposition og live-performance, siden 2006 har taget publikum på utallige soniske rejser udi lydlige og visuelle eksperimenter.
Der er gnistrende free-form-sonik og elektronisk tripnotic lydmayhem fra flere forskellige koncertsituationer på mange forskellige instrument lineups.
"Life of X" er en stilistisk tidsrejse igennem hele PROX´s udvikling. Pladen indeholder således mixes fra studieoptagelser og liveoptagelser, fra så forskellige venues som Mayhem, Kunstforeningen Gl. Strand, Festival No. 9 i Silkeborg, Esbønderup Kirke, Villingerød (m Palle Vedel - visuals & lys), Esplanaden Galleri og Lyngby Hovedbibliotek.
Dertil kommer spændende gæsteoptrædener af Lotte Anker (saxofoner) og Skak Snitker (trompet/horn), samt PROX selv på Teller's Le Bastard
(en ombygget Höfner Guitar m. 2 basstrenge), Rønn's Würlitzer Piano garneret med Korg synths, Nintendo DS-10 og diverse live electronics og FX devices.
Den seneste PROX udladning tager et solidt udgangspunkt i den improvisatoriske praksis som de har arbejdet sig hen imod de sidste par år. Startende med en live performance på Festival No. 9 i Silkeborg, hvor duoen spontant besluttede at droppe sætlisten og istedet improvisere hele koncerten. En ny PROX PRAKSIS var født, og har været et fast holdepunkt lige siden. De rent elektroniske numre på Life of X, stammer fra perioden efter Festival No. 9, og enkelte af kan lede tankerne hen på f. eks. tyske elektroniske pionerer "Cluster" og "Neu".
older releases/stuff in english:
expanded with analoge synths and devices like Nintendo Korg DS-10, XioSynth and lapsteel-guitar.
At the core they mix and control their music within Ableton's LIVE 8's environment.

PROX performs live with or without intergalactic visuals by invited VJ's

PROX was established by
Christian Rønn & Jørgen Teller
in 2006 after many meetings at the morning-bus bringing their kids to the kindergarten.
The daddies - talking software and gear while waving goodbye with a laptop on their shoulders - became PROX.
In a few months production craze they meet each thursday to produce 4 tunes a day. So soon after they had more than 22 new pieces.
They chose the best 10 to fine-tune for their first CD: "Evil Babies" (2007) - a special kind of virtual pop. Concerts in Copenhagen followed.
In autumn of 2009 they started using the Nintendo DS-10, radio-noise, lapsteel-guitar ao. Soon after an intense and productive period it resulted in
CD#2: " on off ". - The new album dwells on boiling passages of cinematic dim, broken cars downtown in Copenhagen's morning, fuzzy antennaes
at the North Pole, noisy late-nite parties and trashy dance floors. It certainly reflects Rønn's involvement in film-production and Teller's free-rock.
Rønn-Teller has performed in Europa, Japan and North-America.
booking-removethis-flincmusic.com